Music at KHPC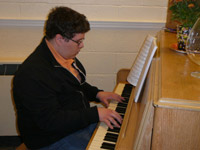 Music has always played a major role at Kennedy Heights Presbyterian Church. Past leaders have included such distinguished artists as the late Robert McSpadden, former music supervisor for Cincinnati Public Schools; Thomas Sherwood, voice professor at Xavier University; and Dr. Robert Muckenfuss, former keyboard player and coach for the Cincinnati Symphony Orchestra and May Festival, who now serves on the opera faculty at the Peabody Conservatory of Music.
KHPC believes in cradle-to-grave music participation, and group members' ages range from 5 to the 80s. We have our Chancel and Adult Bell choirs for adults, the KHPC Kids for grades K-5, and the Young Ringers for grades 7-12. Our Grace Gospel Choir sings occasionally as well.
We believe musical expressions should stem from myriad sources. We have presented classics, such as Handel's "Messiah" and DuBois' "Seven Last Words of Christ", and we commissioned a new choral work for our centennial celebration by local composer Rick Sowash. One Reformation Sunday, Bach and a banjo shared the same service, and our Dixieland Jazz Band annually provides joyous and energetic witness to the Holy Spirit's power on Pentecost Sunday.
We love to hear guest ministers comment "Everyone really seems to enjoy singing in worship", because we believe everyone can make a joyful noise to the Lord!